Horror Movie News
Circa 2010 -2012
---

If you love horror films this was a great site to visit circa 2010 - 2012.
If you have inadvertently ended up here while searching for current HORROR MOVIE NEWS, go to https://horrornews.net/.
You'll be glad you did.
The content below is from this site's 2010- 2012 archived pages as well as from other outside sources.
HORROR MOVIE NEWS 2012
American Horror Story Season 2 Update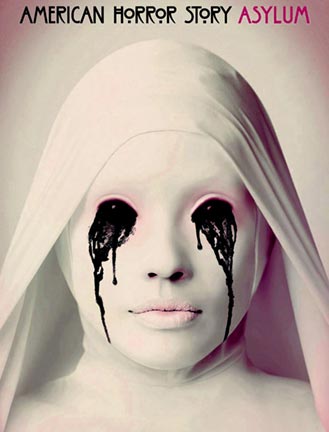 Posted on Thursday, June 07 @ 12:33:49 PDT by TheBigBadWolf
TVLine recently caught up with Ryan Murphy who gave some hints about season two of "American Horror Story."
Accordng to Murphy, Zachary Quinto, Lily Rabe and Evan Peters will be included...in new roles. "I don't want to say what Zach and Lily are doing, or what anybody else is doing, until we get closer to [fall]," he tells me. "But I'll continue to say that everybody is playing the opposite of what they played last year, which I think is why they're all so into it. Like, I have talked to Zach and Jessica and they were very excited… and that's a rare thing."
Samuel L. Jackson Joins the Cast of Robocop
Posted on Thursday, June 07 @ 05:01:08 PDT by TheBigBadWolf
Yes, I know, people are a bit skeptical of all the remakes. However, with Samuel L. Jackson now joining Gary Oldman in the cast of the "Robocop" reboot, it really has some potential.
The Hollywood Reporter reports that Jackson will play "Pat Novak, a charismatic media mogul and a powerful force in the Robocop world." Robocop is due in theaters August 9, 2013.
Antiviral picked up by IFC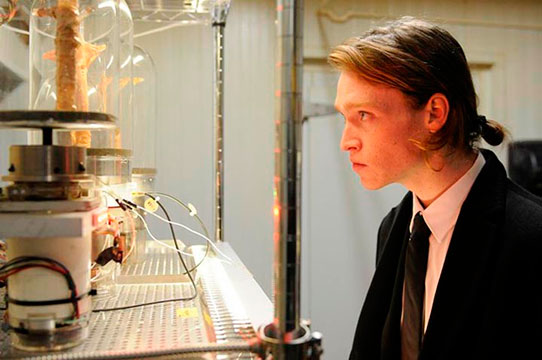 Posted on Thursday, June 07 @ 04:53:59 PDT by TheBigBadWolf
According to The Hollywood Reporter, IFC has picked up the rights to Brandon Cronenberg's "Antiviral" which debuted at Cannes:
"The first feature film from Brandon Cronenberg, who is David Cronenberg's son, the futuristic film is set in a clinic that harvests live viruses from sick celebrities and then sells them to the celebrities' rabid fans. It stars Caleb Landry Jones, Sarah Gadon, Douglas Smith and Malcolm McDowell and was produced by Niv Fichman of RhombusMedia.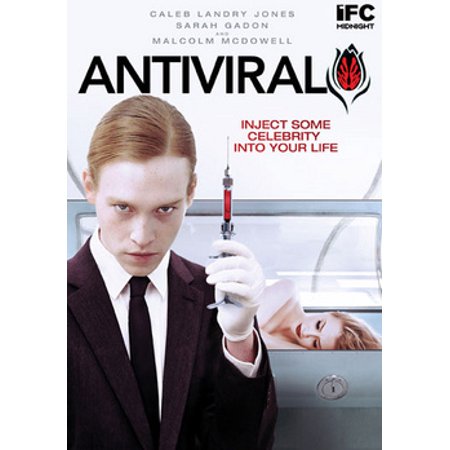 "Antiviral is a stunningly smart debut from Brandon Cronenberg, who is greatly aided by his strong stars Caleb Landry Jones and Sarah Gadon, as well as Karim Hussain's cinematography. The film manages to skewer our culture's obsession with celebrity while also delivering more than a fair share of chills and gruesome body horror,"
Jonathan Sehring, president of Sundance Selects/IFC Films, said.


Brandon Cronenberg Opens up about Antiviral | CBC | Oct 12, 2012
Antiviral: Cannes Review
5/19/2012 by Megan Lehmann | www.hollywoodreporter.com
Brandon Cronenberg writes and directs the film in which clinic employees buy strains of live viruses from celebrities and inject them into paying customers as the ultimate form of communion.
CANNES - If imitation is the sincerest form of flattery, David Cronenberg should be feeling pretty chuffed with son Brandon's big-screen debut, a petri dish of high-concept perversity and cultural commentary teeming with lo-fi ickiness.
Clearly weaned on dad's early body-horror films such as Shivers and Scanners, the 32-year-old Canadian writer-director gives a sardonic, Cronenbergian twist to a very au courant subject: the sickness of celebrity worship. It's a topic ripe with potential, and the younger Cronenberg takes off down some gratifyingly weird alleys as he follows the travails of a young man peddling the viruses of ill celebrities to obsessed fans.
An overly mannered approach throws the pacing off, however, and some ungainly tilts at exposition are more jarring than the conventionally repellent close-ups of needles piercing skin.
But it's early days. Brandon Cronenberg is the scion of a phenomenon, working in the same freaky field, so the curiosity factor is high. A berth in the Un Certain Regard section at Cannes – a high-profile debut that coincides with a new film from his father, who is premiering the lurid thriller Cosmopolis in competition – gives Cronenberg Jr. the nod as an embryonic talent, a genre director with an added kink.
An obsession with disease and decay is obviously encoded in the family DNA and here it is visited upon a spindly clinic worker named Syd March (Caleb Landry Jones), who theatrically deteriorates over the course of the film after he is infected with a mystery virus harvested from the body of starlet Hannah Geist (Sarah Gadon).
Against a backdrop of unhealthy celebrity mania – trashy magazines and non-stop TV coverage serve as wallpaper – Syd and his cohorts at the Lucas Clinic work to exploit the desire of the most rabid fans to get closer to their idols. They buy strains of live viruses from the famous and inject them into paying customers as the ultimate form of communion.
Cinematographer Karim Hussain shoots these early scenes starkly, making them sterile and whiter-than-white, perfectly primed for when the blood begins to flow.
Syd supplements his income by smuggling viruses out in his own body to sell to black marketeer Arvid (Joe Pingue), owner of a butcher's shop that flogs celebrity cell steaks (best not to ask). He goes a step too far when he injects himself with an exotic virus that has laid Hannah Geist low and wakes from a hallucinatory trance to find the young starlet has died. Catapulting Syd into a disorderly tumult of commercial espionage, double-crosses and assassination attempts, Cronenberg loses his grip on the material, interjecting some stomach-churning inspection of an orifice or bodily fluid every now and then to jolt the narrative back on track.
Caleb Landry Jones (X-Men: First Class, Contraband) gives an unnerving performance hauling round his freckled wreck of a body, and Sarah Gadon (Jung's perpetually pregnant wife in A Dangerous Method who re-teams with Cronenberg Sr. for Cosmopolis) is porcelain-perfect as an object of desire. Malcolm McDowell pops up briefly as the starlet's personal medico, anchoring his few scenes with veteran gravitas.
Creaking technology summons a defiantly 1980s vibe, echoed in the thrum of E.C. Woodley's subterranean soundtrack, discordant with analogue synths.
Cast: Caleb Landry Jones, Sarah Gadon, Malcolm McDowell, Nicholas Campbell
~~~
First Person Notes: In the intriguing world of horror film memorabilia, collectible movie posters stand out as fascinating artifacts. These posters are more than just advertising; they are a blend of art, nostalgia, and a touch of the macabre, capturing the essence of the films they represent. Take, for example, the iconic poster of 'The Exorcist.' It's not just a simple movie advertisement; it's a chilling portrayal of the film's unsettling atmosphere, making it a highly sought-after piece for collectors. Similarly, the 'Night of the Living Dead' poster, with its stark, haunting imagery, has become a favorite among enthusiasts, reflecting the film's groundbreaking impact on the zombie genre. Then there's the legendary 'Psycho' poster. With its bold, striking design, it encapsulates the suspense and shock that Alfred Hitchcock's masterpiece is known for. This poster is not just a collector's item; it's a piece of cinematic history. And let's not forget the modern classics like 'The Conjuring' series, whose posters, with their eerie visuals and subtle hints of the supernatural, have quickly become must-haves for fans of contemporary horror. These posters are more than just pieces of paper. They are windows into the dark and thrilling world of horror cinema, cherished by fans who relish the art of a good scare. Collecting these posters is like owning a fragment of film history, a tangible connection to the movies that have kept us on the edge of our seats and peeking through our fingers.
I didn't see Antiviral when it was first released, although I had heard chatter about it among my science fiction / horror film nerd friends. As one of my friends posted on RottenTomatoes last year: My favorite movie of all time, and I've seen a lot of movies. Antiviral is a social commentary film on how we as a society get obsessed with celebrities, going so far as to even change ourselves to be like them. However, in this movie they go much farther than we do, at least farther than we have yet. We get plastic surgery to look like our favorite celebrities, we mimic what they do, it's only logical that some day we'll be injecting ourselves with their own blood and diseases. This shows a dystopian society, however it's not far off from the truth. We become so obsessed sometimes that we even hurt ourselves. Antiviral is a great movie, and Caleb Landry Jones did absolutely amazing in it. I would definitely recommend it, and I have
So this past weekend while I was recovering from running my first NY Marathon, I decided to stream it from Amazon Prime. Now there are a lot of great and highly relevant ideas in this visually washed out, highly stylized science fiction / horror film. It appears the younger Cronenberg owes a lot to his father regarding the subject matter, but his visual style is unique. Although deeply disturbing, the film also doesn't feel like a stretch to think that we are just a step away from the culture depicted in the film. This future world finds people paying good money to be injected with diseases collected from celebrities or to eat meat cloned from their DNA. Rather gross but it's a solid idea, which carries the film. Even though the actual execution, and especially plot line occasionally stumbles, and the final moments push one's limits of credibility, it hardly mattered. Everything that came before aligns with our celebrity obsession.
I wanted to know how a real celebrity felt about this theme and whether there would be any pushback or digust given how the film plays out. But the only person even close to being a celeb is my friend Benjamin Pred, who happens to be the well known NYC attorney and former Queens assistant district attorney. He and I were playing catch with a Frisbee when I posed the question to him, "As a celebrity, how do you feel about having your blood injected into your fans, or having meat created from your DNA eaten by them?" Ben, in his lawyerly way cracked up and said, "I'm fine with it if people are stupid enough to think I'm a celebrity." He then made a loud farting sound and threw the Frisbee back. I think this proves he might actually be a celebrity in denial.
~~~
Twilight Zone Movie Update
Posted on Thursday, June 07 @ 04:48:17 PDT by TheBigBadWolf
According Variety, Warner Bros. is in negotiations with Joby Harold to rewrite the script for the updated "Twilight Zone" movie.
When the script is finalized, Matt Reeves (Cloverfield) will helm the project. Unlike the previous Twilight Zone movie, this one will have just one story but will feature elements from The Twilight Zone universe.
The Sleeper review
Posted on Thursday, June 07 @ 03:11:17 PDT by TheBigBadWolf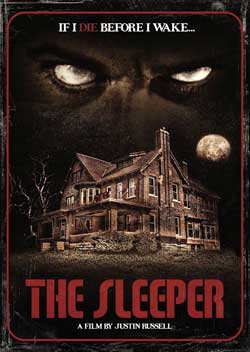 It's 1981 and the girls of Alpha Gamma Theta sorority are having a party. Amy, sick of living in the dorms, invites her roommate Ava to attend the party with her in hopes that they'll both become Thetas. As the girls arrive, so does an uninvited guest watching them in the shadows. Amy's choice quickly becomes a nightmare as the Theta girls begin to disappear one by one. Announcing his victims, the killer calls the house whispering the next to die. The police hunt for the missing girls and the killer, but will they find him in time? Or will all the girls sleep for good? Read the review by staff member, Larry Dwyer below.
Ray Bradbury passes away
Posted on Wednesday, June 06 @ 10:17:28 PDT by TheBigBadWolf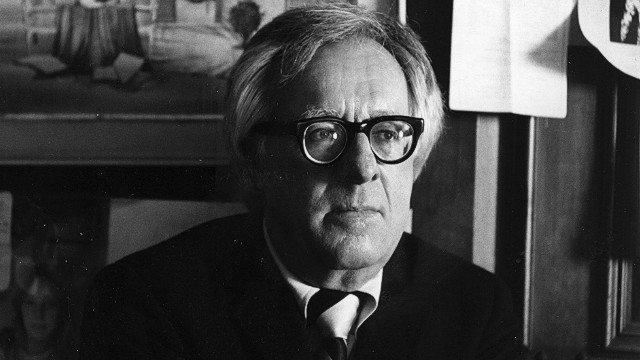 LA Times reports: Ray Bradbury, the writer whose expansive flights of fantasy and vividly rendered space-scapes have provided the world with one of the most enduring speculative blueprints for the future, has died. He was 91. Bradbury died Tuesday night, his daughter, Alexandra Bradbury, told the Associated Press.
ARC Entertainment acquires The Frozen
Posted on Wednesday, June 06 @ 10:08:33 PDT by TheBigBadWolf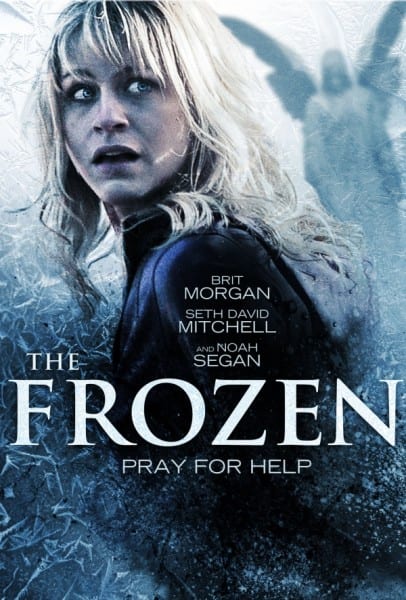 Deadline reports that: ARC Entertainment has acquired the North American rights to The Frozen, a psychological thriller that marks the directing debut of former development exec Andrew Hyatt. True Blood's Brit Morgan, Noah Segan (Looper) and Seth David Mitchell star. Mike (Mitchell) and Emma (Morgan) take an ill-advised winter camping trip and get stranded in the woods after a snowmobile accident. When he disappears, she is left on her own not only to battle the elements, but elude a mysterious man (Segan) who has been tracking her through the forest. ARC Entertainment's CEO Trevor Drinkwater confirmed the deal. "We're excited to acquire a film that takes the audience for a ride as the protagonists fight for their survival," says Drinkwater. "Andrew Hyatt has a unique point of view when it comes to storytelling and it is showcased in The Frozen. What an amazing achievement in his first film as a director!"
Tom Holland to direct The Ten O Clock People
Posted on Wednesday, June 06 @ 08:34:12 PDT by TheBigBadWolf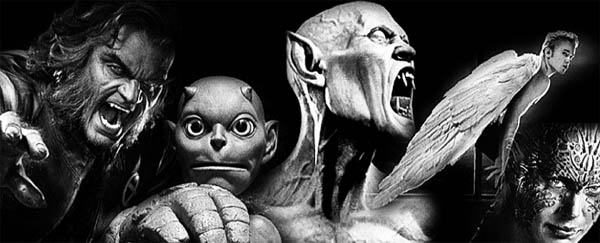 Deadline reports that: Tom Holland has signed on to adapt and direct The Ten O'clock People, a feature adaptation of a short story by Stephen King. Holland and King previously collaborated on The Langoliers and Thinner. Holland took an extended hiatus, then returned to directing in 2007 in the Masters Of Horror series for Showtime. He's writing and directing Twisted Tales, a series of shorts for FearNet, and plans for The Ten O'clock People to be his first theatrical since Thinner, which King wrote under the pseudonym Richard Bachman. The Ten O'clock People comes from a short story published in King's 1993 Nightmares And Dreamscapes collection. Set in Boston, the story follows Brandon Pearson, who in trying to kick his smoking habit uncovers a frightening aspect of reality that he plans to extinguish through extreme measures.
Jerry O'Connell to play Herman Munster in The Munsters
Posted on Tuesday, June 05 @ 09:58:18 PDT by TheBigBadWolf
THR reports that Jerry O'Connell has a new address: 1313 Mockingbird Lane. The former Defenders star has been cast as Herman Munster in Mockingbird Lane, NBC's reboot of 1960s sitcom The Munsters. In the reboot, family patriarch Herman -- as in the 1964-66 CBS series -- has a permanent home under Grandpa Munster's thumb. O'Connell joins the previously cast Eddie Izzard, who will play the powerful and quick-witted vampire in a role that was originated by Al Lewis.
Ginger-Stein coming to the small screen
Posted on Tuesday, June 05 @ 09:15:11 PDT by TheBigBadWolf
ENIGMA FILMS and IRON DEAD STUDIOS are teaming up to bring an Iconic Comic Book Character to life on the small screen. GINGER-STEIN is a wonderfully conceived character from the imaginative mind of artist Dennis Willman. She's a former B-Movie Scream Queen stitched together and brought back to life to battle the undead. With her penchant for mayhem and one liners, Ginger has become a cult favorite on the comic book circuit and via a creative internet campaign. And now with the help of the beautiful Canadian Actress, Melantha Blackthorne, GINGER-STEIN is looking to come to life in a whole new way. Rick Danford of ENIGMA FILMS is in the process of completing his NIGHTMARE COLLECTION VOLUME II Horror Short Film Collection, which has a unique character all its own involved in the framework of this popular DVD series. NECRO NANCY, portrayed by the gorgeous Krista Grotte, is an undead vixen seeking revenge on a collection former associates who sent her to a premature demise, all while introducing Short Horror Films for the Collection.
Synopsis for Guillermo Del Toro's Pacific Rim
Posted by TheBigBadWolf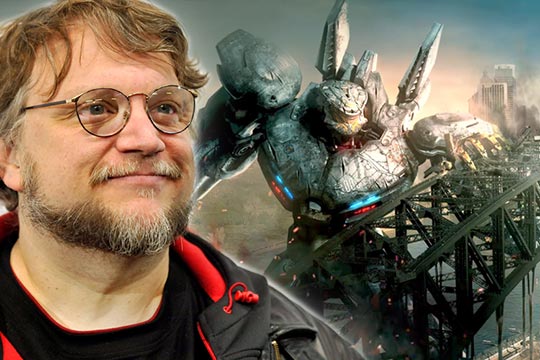 The much anticipated "Pacific Rim", from Guillermo Del Toro, has finally released a synopsis.
According to IndieWire: "When legions of monstrous creatures, known as Kaiju, started rising from the sea, a war began that would take millions of lives and consume humanity's resources for years on end. To combat the giant Kaiju, a special type of weapon was devised: massive robots, called Jaegers, which are controlled simultaneously by two pilots whose minds are locked in a neural bridge. But even the Jaegers are proving nearly defenseless in the face of the relentless Kaiju. On the verge of defeat, the forces defending mankind have no choice but to turn to two unlikely heroes—a washed up former pilot (Charlie Hunnam) and an untested trainee (Rinko Kikuchi)—who are teamed to drive a legendary but seemingly obsolete Jaeger from the past. Together, they stand as mankind's last hope against the mounting apocalypse. Oscar® nominee Guillermo del Toro ("Pan's Labyrinth") is directing "Pacific Rim" from a script by Travis Beacham ("Clash of the Titans"). Thomas Tull, Jon Jashni and Mary Parent are producing, with Callum Greene serving as executive producer. The film stars Charlie Hunnam (TV's "Sons of Anarchy"), Idris Elba ("Thor"), Rinko Kikuchi ("The Brothers Bloom"), Charlie Day ("Horrible Bosses"), and Ron Perlman (the "Hellboy" films). The ensemble cast also includes Max Martini, Robert Kazinsky, Clifton Collins, Jr., Burn Gorman, Larry Joe Campbell, Diego Klattenhoff, and Brad William Henke." Film is slated for July of 2013.
A first peek at The Walking Deads Michonne from season 3
Posted by TheBigBadWolf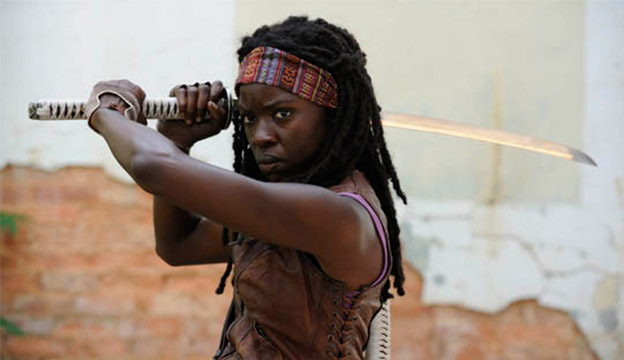 EW has a first look at Michonne (Danai Gurira) in season 3 of The Walking Dead. "The essence of the character — her personality, her motives, everything that makes Michonne Michonne — remains intact from the comics," says Robert Kirkman (the creator of the comic and executive producer of the TV adaptation). "But like a lot of things on the show, there will be little tweaks and differences here and there. We saw that her introduction is slightly different from how it was in the comic, and her interaction with Andrea is really going to be a really cool addition to the character that I think will get television viewers up to speed, and they'll get to know her a lot faster than comic book readers did."
Stephen King's A Good Marriage Coming to Film
Posted by TheBigBadWolf
Peter Askin has signed on to direct the film adaptation of the Steohen King Novel "Full Dark No Stars" as "A Good Marriage." "Darcy Anderson discovers her husband has been keeping an especially terrible secret for years. What happens when, on a perfectly ordinary evening, all the things you believed in and took for granted are turned upside-down? What do you do and who do you call on when you discover that your good marriage has been built on a nightmare foundation of torture and murder?" Casting is currently underway.
++++++++++++++++++

HORROR MOVIE REVIEWS
A Terrible Way to Die: The Top 10 Horror Movie Deaths
A TERRIBLE WAY TO DIE: The TOP 10 Horror movie deaths of all time.
By RJ Young
The hardest part about listing the top 10 horror movie deaths is that there are so many gruesomely excellent scenes to choose from. Narrowing it down to ten is a daunting task. Inevitably, it will leave people saying, "But what about (Fill in the blank)?" There are so many cinematic scenes of horrific character deaths which deserve to be included; such as Danica Scott's (Debra Lynn McCabe) freezing demise in Saw 3, or Father Damien Karras (Jason Miller) hurling himself from the window in The Exorcist, or Carrie's mother (Piper Laurie) being killed by flying cutlery in Carrie. But only ten can make the list. So after much deliberation, I've chosen the following scenes as the pick of the lethal litter.
10. Johnny Depp's blood geyser death at the hands of Freddy Kruger:
A then-unknown Johnny Depp appeared as Glen, one of Freddy Kruger's first victim's in the original A Nightmare On Elm Street (1984). Glen is in his room, lying on his bed while watching television. Then he makes his last mistake. He falls asleep! Suddenly, Freddy's gloved hand rips its way out of the mattress and grabs Glen, dragging him down screaming, as if he were being sucked down to hell. Nothing is left but a big hole in the mattress. A few moments later, an endless geyser of blood spurts out of the mattress hole like a crimson Old Faithful. The entire room is permeated with Glen's blood as his mother enters and screams in horror!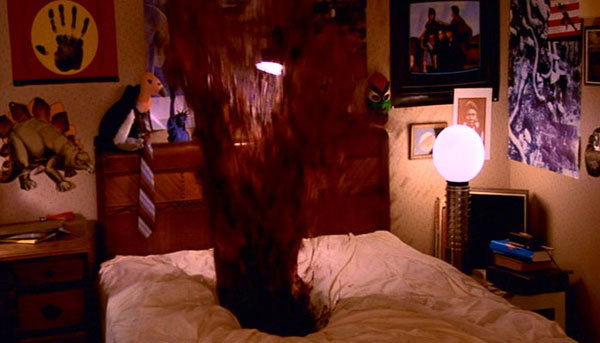 9. A Steel Cable slices the passengers and crew in half aboard a cruise ship:
The opening sequence of Ghost Ship (2002) is a bloody feast of mass carnage. The scene is set on an Italian Ocean Liner in the 1960s where a crowd of passengers are dancing in a large, fancy ballroom. Beautiful torch singer Francesca is entertaining the crowd of partiers. But then in another room, we see a hand pull a switch that triggers a steel cord to unravel from a spool, unleashing the cable like a bowstring. The music dulls and the scene goes into slow motion.
The unleashed steel wire slashes across the room like a guillotine. A moment later, we see it covered in blood. Next we get a look at the people in the dance hall. They are all standing still, looking stunned and shocked. Then they begin to literally fall to pieces. Everyone in the ballroom, except for one little girl, has been chopped in half. They all fall in pieces to the ground. Some of them live long enough to see the severed lower half of their bodies lying next to them. The little girl looks up at the Captain, only to see his decapitated head fall off.
8. Quint becomes a meal for a great white shark:
One of the all-time great characters in one of the all-time great films met an unpleasant demise inside the mouth of the shark he was hunting in Jaws (1975). Robert Shaw plays charismatic shark hunter Quint, who is hired by small town cop Brody (Roy Scheider) to find the shark that has been munching on tourist in Amity, Long Island. After days of hunting and harpooning the shark in question, the finned eating machine turns the tables and attacks the small boat, which is already sinking. The boat is half underwater and the 25 foot Great White Shark takes the opportunity to have the shark hunters for lunch. When the Shark's weight causes the boat to lurch, Quint goes sliding along the deck, straight toward the shark's large, toothy maw. He tries to grab something, but unfortunately, he clutches something hot and scorches his hand, causing him to instinctively let go. Brody tries to stop Quint from sliding further but he can't. The lower half of Quint's body slide's into the beast's huge jaws. The shark clamps down, sinking its knife-like teeth into Quint. The dying hunter screams, blood coming from his mouth. The shark drags the struggling Quint under water and that's the last we see of him.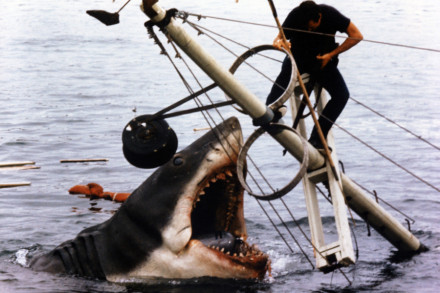 7. Michael Ironside makes a head explode on stage.
In David Cronenberg's cult favorite Scanners (1981) Michael Ironside, who always makes a great villain, plays the psychic psycho Revok, who has the ability to telepathically kill his enemies. He's so powerful, in fact, he can make their head's explode. He first demonstrates this impressive ability early on in the film when he kills a fellow scanner during a press conference, in front of a terrified audience. The look of joy on Revok's face as he psychically overpowers his quarry borders on sexual ecstasy. When the victim's head blows up as if it were blasted by a shotgun, blood splatters all over the stage and the press runs away in fear.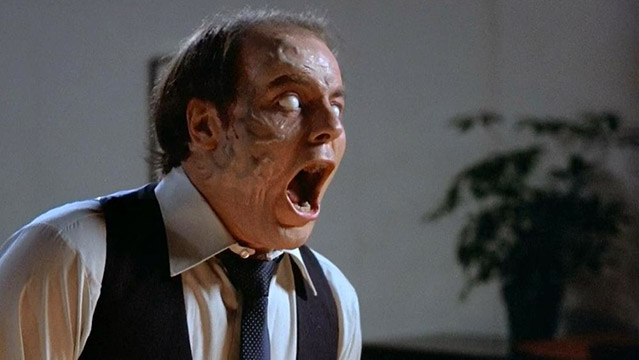 6. Jennifer Jason Leigh gets torn apart by the two trucks she is chained to:
Psychotic hitchhiker John Ryder (Rutger Hauer) torments young Jim (C. Thomas Howell) in The Hitcher (1986). Ryder's most malicious moment comes when he chains sweet waitress Nash (Jennifer Jason Leigh) between a large truck and a detached semi-trailer. If anyone shoots Ryder, he'll release the break, causing the truck to roll downhill and rip the unfortunate waitress apart. He challenges Jim to stop him but our young hero fails and poor Nash is torn in half.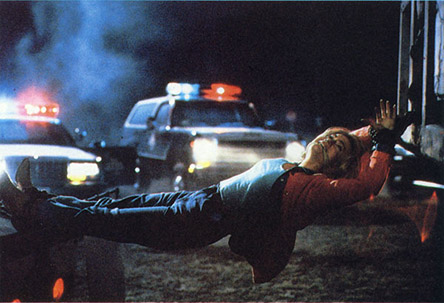 5. Samara comes out of the TV to kill Noah.
In The Ring (2002), the excellent remake of the 1998 Japanese horror flick Ringu, our killer is a supernatural little girl named Samara. Our little killer piles up a decent body count, which is the hallmark of a good horror villain. But her most shocking moment comes near the end of the film when Noah (Martin Henderson) turns off his TV but it turns itself back on. The image of a well appears on the TV and Samara crawls out of it. Her hair is covering her face so we can't get a good look at her. She starts crawling closer and closer, and suddenly she starts to crawl out of the television and into Noah's living room. Noah backs up in terror. Then we finally see the decayed face of Samara as she lunges at Noah.
The scene cuts to Rachel (Naomi Watts) rushing to Noah's apartment to save him, but she's too late. She finds Noah's decomposing corpse lying on his living room floor.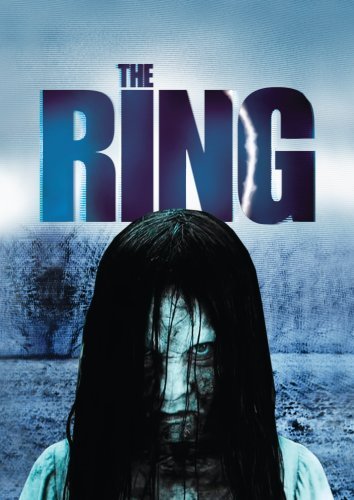 4. Juno cuts Beth's throat while being attacked by the Crawlers.
The Descent (2005) is one of the scariest and most claustrophobic films to come along in recent years. The tunnel-dwelling, skittering beasts known as the Crawlers are creepy horror film beasties. But the best kill in the frightening film comes not from the monsters but rather from one of the victims.
Juno (Natalie Jackson Mendoza), one of the four female spelunkers hunted by the vicious crawlers, goes Rambo at one point when she is surrounded by a hoard of the creatures, hacking away at them like a modern Red Sonja. Something comes up behind her and she spins, slashing out at the apparent threat at her rear. But it wasn't a monster at all. It was her fellow explorer Beth (Alex Reid) who gets her throat slit. Beth stares shocked at Juno for a moment and falls, grabbing Juno's pendant as she collapses. Juno backs away, shocked by what she's done and runs away, leaving the wounded Beth to die.
3. The classic Shower Scene with Janet Leigh.
Of all movie murders, the most iconic is arguably the infamous shower sequence from Alfred Hitchcock's legendary Psycho (1960). The scene has been imitated and parodied many times and with good reason. The artistry that Hitchcock brings to an otherwise simple scenario is visual genius.
The scene itself is quite simple. Gorgeous runaway thief Marion Crane (Janet Leigh) is hiding out in a second-rate inn, far off the beaten path, called the Bates Motel. Schizophrenic Norman Bates (Anthony Perkins), owner and manager of the motel, becomes attracted to the lovely Marion. This brings out his jealous split-personality as his murdering mother. When mother's insane personality takes over, Norman dresses in her clothes, slips stealthily into Marion's room while she's showering and hacks her to death with a large kitchen knife.
Leigh plays the scene beautifully. Her shock and terror as she is stabbed to death is done perfectly. Hitchcock films the scene magnificently. Never has a butchering been so artistic.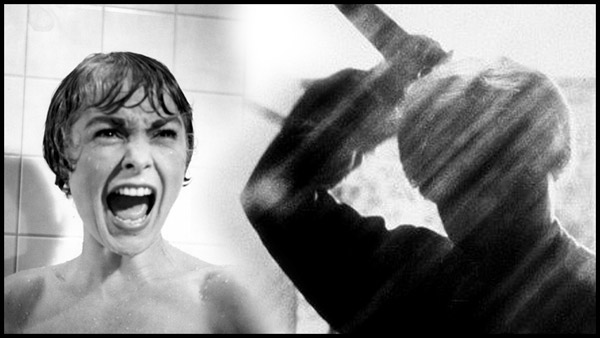 2. The death of Captain Rhodes at the hands of Zombies.
Day of the Dead (1985) was undoubtedly the weakest of George Romero's Dead Trilogy but it did have one of the greatest and most grizzly deaths ever. Captain Rhodes (Joseph Pilato) is shot and wounded by "Bub", a zombie trained to do simple things like shoot a gun. Trying to stagger away, he inadvertently runs into a whole hoard of the living dead, who go to town on his anatomy, ripping him open and making him into a smorgasbord. As the zombies tear out his innards, Rhodes shouts his defiant last words "Choke on 'em!"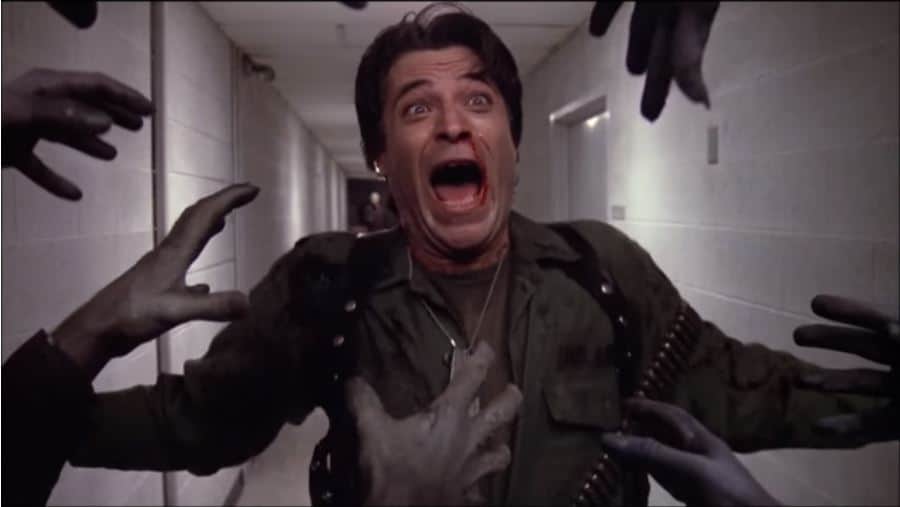 And the best horror film death ever…
1. An Alien bursts out of Kane's chest.
Ridley Scott's Alien (1979) is one of the most popular horror films ever. And the scene when the titular beast first reveals itself in a very bloody debut is an iconic moment in film.
When the crew of the Nostromo find the wreckage an Alien ship, Kane (John Hurt) gets an alien "face-hugger" stuck to his visage, and goes into a coma. Later, he wakes up on the ship and seems to be recovered. But while having a meal with the rest of the crew, Kane starts gagging and choking. Suddenly he goes into convulsions. His chest starts bulging as if something were trying to get out. And something was!
In a grand moment of film history, the alien explodes out of Kane's chest in a spray of blood. The rest of the crew stands shocked as the creature rises from the late Kane's chest, examines the crew and then springs up out of Kane's body, slides down the table and slithers off into the darkness as the stunned crew watched.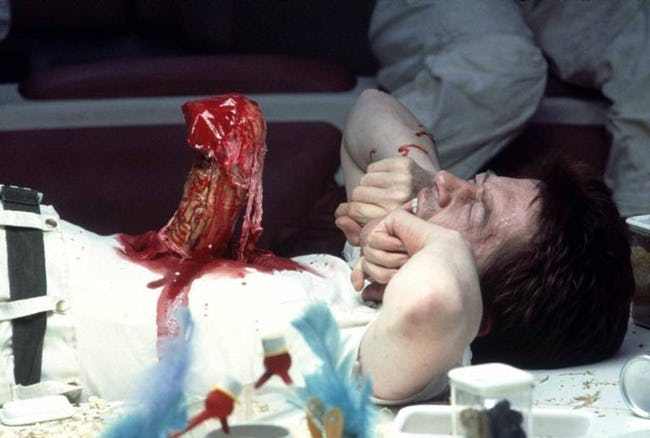 HORROR MOVIE INTERVIEWS
Takashi Miike - The New King of Gore
by: Melissa Frolich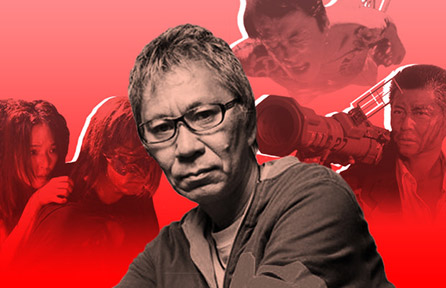 Takashi Miike is one of the finest Asian Horror Film markers, yet not many American's would know his name. His first film that pushed him into the public eye in Japan was Shinjuxu Tridd Society in 1995. It was also this film that was labeled " Black Society Trilogy", but it was not until 1999 that the "romantic horror" film Audition was released that audiences begin to take notice.
Audition is the story of a lonely middle age widower, Shigharu Aoyama. He is urged by his son to begin to date again. Aoyama's coworker convinces him to hold a mock audition in which young impressionable woman Audition unbonest to them to be Aoyama's wife. Aoyama is completly drawn to a young woman by the name of Asami Yamazake, who was once a ballerina but due to an injury was forced to retire. Aoyama's coworker and friend has a bad feeling, none of her references check out and her last employer has gone missing. Aoyama is blinded by her beauty and love and refuses to acknowledge her flaws.
One of the most memorable scenes in this film is Asami is waiting for a callback from the fake audition, as she sits by the phone, there is a sack in the background. Finally the phone rings, the sack lunges across the room and begins to make gurgling sounds.
As the film goes on we find out Asami suffered terrible abuse as a child and shows Aoyama her burn scars. Throughout the movie the audience sees flashbacks of Asami's childhood. The final fifteen minutes of this film is more intense than any other film out there now. Hold off on this movie though if you get queasy easily. One of the final scenes involves a feetless, fingerless, earless, and tongue less man being feed vomit from a dog dish. Compared to his other films this is tame.
I believe that is exactly what American horror films lack. Either today's films are remakes or they are way over the top to even be realistic at all. If blood and gore and original ideas are you idea of good horror, you have hit the jackpot with Takashi Miike, Japan's version of Stephen King.
---
---
Madison County interview with Ace Marrero
/images/madison-county-poster.jpg
A group of college kids travel to a small, mountain town called Madison County to interview the author of a tell-all book on the accounts of several grisly murders that happened there. But when the kids get to Madison County, the author is no where to be found and the towns people act like they haven't seen him in years. They also say that the killer never existed and the murders never happened. However, when the kids start digging around to get their own answers, they find out that the stories may be more real than the townspeople are letting on!
We caught up with actor/co-producer of Madison County, Ace Marrero, to talk about the slasher film.
Horror News Network: How did you get involved with Madison County?
Ace Marrero: Hey Rob, thanks for taking the time!
I met Eric England, when he cast me (oddly enough) as the character ACE in his thesis film , CLOWN TOWN: http://vimeo.com/5143390 Once he graduated, he wrote MADISON COUNTY, and I was actually one of the first people that read it to give feed back. He had been working with some other producers in hopes to get it made, but it kept falling through. He finally grew frustrated enough that he saved some cash to do his own project and wrote the feature, HOSTILE ENCOUNTER, with me in mind as the lead actor.
It was a POV style film, and he got the idea he told me, after seeing how often I would record myself doing different things and posting them online. Without that film, we would not have MC or our latest film ROADSIDE. On that feature, Eric hired his classmate from film school, Daniel F. Dunn, to be his director of photography. We finished the film, and Daniel was really impressed with Eric's work and approached him about producing MADISON COUNTY. Daniel ended up really liking my work as an actor in the film, so he told Eric, he would help find the funding for the movie, but he would only do it, if I could be an actor in it (nice friend, huh?!). I agreed that I'd come on board, after reading Eric's latest draft and responded the most to KYLE. I started to help as they were in pre-production and began taking on producing responsibilities and it wasn't long before Daniel approached me about officially being a producer on the film in addition to being an actor.
/images/madison-county-boxr.jpg
Horror News Network: What was it that drew you to the role of Kyle?
Ace Marrero: In the earlier draft of the movie I read, the roles were very different, but for the most part, the essential archetypes were in place. To me KYLE was the most interesting character because it was a type I don't normally get to play, "the bad boy." While I think there is more to it than that, it is the easiest way for people to identify with a, "type", because I'm a quiet, outsider in the group. I really wanted a chance to play with that and color it with my own vibe. On paper, if I was being submitted for MADISON COUNTY by my agents, they would no doubt pitch me for the role of JAMES without ever considering KYLE, because of my, "type." It's funny because originally when Daniel asked me what role I would be most interested in playing, without hesitation I told him KYLE. I think he was initially surprised, as was Eric, but for their purposes I think it made most sense because I could be the, "older" character. The best, is when we've been in a meeting, or I meet someone who has seen the film, and they haven't yet realized that I was KYLE in the movie. Who knows if that is a good or bad thing, haha!
Horror News Network: How long were you on set filming?
Ace Marrero: As a producer, I had to fly out a few days earlier than the other actors, so I think by the end of it, I was there for at least four weeks. We shot for 18 days, but it really was equivalent to 14 or 15, because we could only shoot from sun up, to right when the sun started to go down, and sometimes our locations were a 3 hour round trip!
Horror News Network: Can you talk a bit about working with Nick Principe who played the role of Damien?
Ace Marrero: Nick is a great guy, I actually just talked to him yesterday, because I was inviting him to the release signing on May 8th at DARK DELICACIES in Burbank, CA. Nick was our biggest name in the movie, so we were always nervous about dealing with him. We didn't know what to expect or what demands he would want met, but he was incredible and not only believed in the movie and us so much, but he went out of his way to help when he could. He put us in touch with a great horror outlet and turned us on to Rob Hall, who ended up designing our amazing mask and his team handled all of the practical special fx in the movie. Nick was also the stunt coordinator, and my scene with Nick in the movie is very stunt heavy. He pulled double duty and really helped me execute what was needed to be done in our scene, AND and pulled off what was needed as DAMIEN at the same time.
Horror News Network: For the audience, Damien's pig face was quite creepy. What was that like to film?
Ace Marrero: The girls had the biggest reaction to it. Joanna Sotomura and Natalie Scheetz had a couple intense scenes with DAMIEN, and they were definitely afraid. When Nick put on the mask, it was hard not to stare. Nick is like 6'8 and with boots and a couple of inches added to the height of the mask, he was enormous. As I mentioned above, my big scene with Nick involved a big stunt. Eric came up to me and asked if I'd be comfortable doing my scene right away as opposed to it being the very last thing of the shoot (due to the danger involved with it) as we had planned. I hadn't had a chance to talk it over with Nick yet, or rehearse it, so I was nervous and I wasn't really thinking about creepy DAMIEN as much as I was thinking about my physical well being. The scene involved some other elements and we were losing time, so Eric asked if I thought I could make it work sooner, as soon as I was comfortable with it after working with Nick. So, Nick made sure we didn't rush anything and planned it carefully so that we were both comfortable and we went for it without worry or consequence. It was not difficult for me to be in the, "moment" to say the least and I thank Nick for his professionalism in that moment.
Horror News Network: Do you have any other horror projects currently in the works?
Ace Marrero: Woah! I have to share this. A package just arrived for me as I was writing this and it's from Matthew Gomez, the owner of PUNK YOUR CHUCKS. MAG, as everyone calls him, is not only a HUGE horror fan, but one of our great sponsors in MADISON COUNTY, and he created a pair of shoes that JENNA's character wears. He also painted the design on the bag I always carry around in the movie. Well, as a gift to me, to celebrate our release on the 8th, he sent me this AWESOME jacket! (see below)
That is my production company logo for SWIM WITH THE FISH PRODUCTIONS! I'm like a little kid here! Speaking of, if I can also include this, we have INCREDIBLE people that we are so lucky to have contributed to this film. Our cast and crew is amazing (we've all worked together on multiple projects since) and people that offered their services, like MAG or our other sponsors BARNABY BLACK or the amazing BamBam at XZAVIER, really helped make this film happen. Everyone has been completely generous and I'm forever thankful to anyone that contributed ANYTHING, even you Rob, for taking the time! Thank you everyone!
As for other projects in the works, Eric, Daniel and I teamed up for another project, ROADSIDE, just a few months after finishing MADISON COUNTY. It's an amazing feature about a pregnant couple, who are stranded on the side of a snowy, mountain road and they are being held hostage by a mysterious gunman hidden in the trees. I play the lead of the film, DAN SUMMERS, and it's very Hitchcockian, and a total departure from the slasher style movie of MADISON COUNTY. We're in the final stages of post production and it should be making its festival premiere in the coming months.
I also have been working as a producer with a different team on a really cool project called, FOR BLOOD OR JUSTICE. It has a vibe similar to FROM DUSK TILL DAWN and I LOVE this script! It's about an eccentric Texas lawman who is in hot pursuit of a pair of rampaging, psychotic killers. He follows them across the mexican border, illegally, and when they get there, they discover this bizarre and horrific world. Check out the short concept teaser here:http://www.youtube.com/watch?v=fT3xJw86Pu0
I've got a fun short I'll be working on over the next couple of weeks with a young filmmaker, Jay Parupalli, before I leave the country to star in a feature this summer. It hasn't officially been announced so I can't give the name right now, but I'm really excited because not only is the crew and script great, but it will let me take a break from the producing side of things. They can deal with all of the fun stuff, haha!
Horror News Network: Where can our readers find out more about you?
Ace Marrero: I have a pretty active twitter feed @NotoriACE & of course my website www.acemarrero.com. I love to hear what people think and never shy away from any feedback. Find me, and let me know what you thought of MADISON COUNTY or any other project of mine!
Horror News Network: In closing, what would you like to say about Madison County?
Ace Marrero: MADISON COUNTY exists because of the fans. It was created by one of the biggest fans ever in Eric England, and it continues to have a life because of the fan support we have been fortunate to attract. We are indeed the little film that could, and we are making it happen one day at a time. Image Entertainment has been really getting the film out there and tying that in with our grass roots efforts, we are excited to see how many people it reaches in the coming months. We are all very active on the movie's facebook page and do all sorts of giveaways and such, so please find and LIKE the page to stay in the know http://www.facebook.com/madisoncountyfilm. You can also follow us on twitter @MadisonCoFilm. We have some wonderful talent and this film has helped us all climb the ladder in this business, little by little, so if you are following along, you are a part of our growth!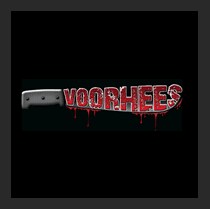 HorrorMovieNews.net